One of the foremost developmental tasks of early childhood is learning how to establish relationships. Children's early interaction patterns with adults and peers set the stage for their later social competence or deviance. Moreover, children's early social competence affects the way they evaluate their own self-worth and their views of the world as friendly or hostile. Consequently, a major focus of early education and early care is the development of young children's social and emotional competence (National Research Council, 2001). Positive social behavior is also a desired general outcome of early intervention that parents and professionals identify as important for young children. The ability to participate socially with peers and adults was one of 15 general child outcome statements investigated by a national sample of parents (n=351) and professionals (n=672) (Priest et al., 2001). Of the 15 general outcomes examined in the study, social competency was among the most highly rated. Other highly valued general outcomes included expressive communication, movement, problem-solving, among others (Priest et al., 2001).
One of the most important missions of early education is to help children learn to be socially skilled. Whether children are in home-based or center-based programs, a critical outcome for our youngest children is to help them learn how to interact positively with peers and adults. Social competence is a widely accepted and highly valued general outcome in early childhood. Programs for very young children need to know when children are making progress in becoming more socially proficient. Programs need to know when to take some action in the form of different intervention procedures. Programs also need to decide critical issues such as the kinds of support children will have to help them become better skilled, or when to supply in-depth assessment and referral for children not making acceptable progress.
Early Social Indicator (ESI) Key Skills
 The Early Social Indicator (ESI) is one means of checking children's growth toward the important general outcome of being able to interact with peers and adults, maintain social interaction and participate socially in home, school, and community.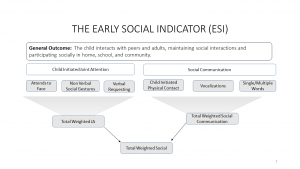 Because children's rate of growth in social competency is so critical for their later success, monitoring individual children's growth on the ESI can be important in making intervention decisions. Monitoring ESI growth for all children in program can provide helpful information on program progress and inform programmatic decisions regarding this essential outcome possible. 
 The Early Social Indicator measures progress toward social competence in infants and toddlers, ages 6 months to 42 months of age. The ESI is a play-based observational measure of a child's growth in social skills with toys, a familiar adult (and a peer if desired) during a 6-minute play period.
 Six social key skills are observed during the assessment.  Each of these key skills can be viewed individually as well as two composite scores that these key skills create:  child initiated joint attention and social communication.  These key skills were selected to comprise the ESI based on a conceptual review of the literature.
 The key skill elements likely to evoke play and social interaction for Child Initiated Joint Attention are:  Attends to Face, Non-Verbal Social Gestures, and Verbal Requesting.  The key skill elements likely to evoke play and social interaction for Social Communication are:  Child Initiated Physical Contact, Vocalizations, and Single/Multiple Words. This framework separates the refinements-expansions in socially expected behaviors in infants (i.e., smiles, gestures) from the positive verbal social behaviors expected of children 12 months and older (i.e., use of words in greetings, bids to play, requesting assistance, etc.). These positive nonverbal and verbal social behaviors are also expected to be distributed differently to adults, to peers, and to both persons (i.e., undirected). Young children interact more frequently with adults than peers, with with peer interaction and play emerging in older children.