The Blocks and pop-up enclosures are recommended play toys for the EMI. Similar toys with equivalent functions were used in its initial development. The normative data used for decision making represent children's movement while playing with these toys.
Toys were screened and selected based on their ability to engage children's interest and evoke their movement skills. Additionally important criteria for selecting these toys included safety, common availability in child care settings, purchase availability, and suitability for use by the entire age range (birth to 3 years). Additionally, we rejected toys that did not meet these criteria (for example, too often evoked sitting and exploration rather than gross movement
---
Pop-up-style enclosures: These type of toys are typically made of a flexible nylon enclosure, similar to the bus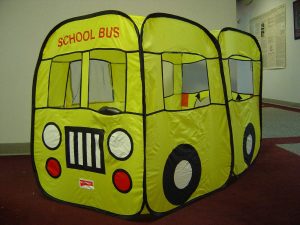 and "Big Burger Drive Thru" on the right. Playhut and Time-to-Play offer several different styles of these enclosures. They are characterized by a door that children can walk through, and window(s) for them to explore inside and outside the enclosure. For safety reasons, there is no attached floor. In addition to crawling through, children may stand up in the enclosures, open and close the nylon doors, and look out the windows. Like the blocks, you may add balls to the house for children to roll/throw in and out of the enclosure,which encourages movement in and around the toy.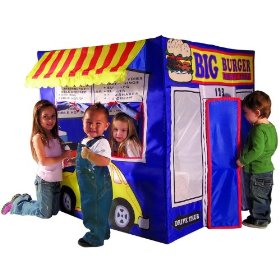 Blocks and Balls: Made by Step 2, this set of blocks can be purchased with 40-65 foam rubber blocks of various sizes, colors, and shapes. Using these blocks, children will build structures, which they ultimately enjoy knocking down by walking through them, using another block, or balls (sold separately). Add at least three balls of similar size (one small, medium, and large) to the blocks. Ensure that the balls can be easily cleaned with antiseptic wipes and that they are large enough to avoid a choking hazard. See the EMI administration instructions (requires Adobe Acrobat Reader) for additional information, including recommendations on how to use the toys during an observation, and how to modify the toys for children with sensory impairments.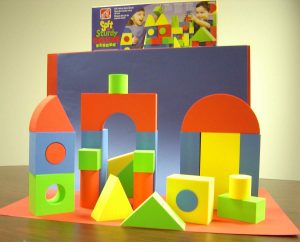 EMI Toy Purchasing Information
All of these toys can be purchased at online stores such as Amazon. The tables below contain links to the toys in various online stores. Alternatively, you may go to one of the online stores listed in the table below and type the name of the toy into the store's "search" field. Other stores may also sell these toys, but these were the most popular stores that had them in stock as of our last check. If you have problems finding them at the stores listed, search for them at Google or Shopping.com by typing in the toy name in the website's search fields.
All price estimates are based on our current records. Prices may vary depending on manufacturer sales and retailer markups or discounts.
Blocks
Educolor Toys Block Set

Use the product name to search for this toy in stores or in one of the online stores listed below. To search for a toy online, type "Educolor Toys Block Set" into the store's search field.
Store
Approximate Price
Link
Amazon
$30
Amazon
Wal-Mart
80 piece set:  $26.82
Walmart.com
Pop-up Enclosures

Click the link in the right column or use name to search for these toys in stores. To search for a toy online, type the name of the item into the store's search field.
Store
Approximate Price
Link and Toy Name
Amazon
$29
Pop-up Fire Truck
Toys-R-Us
$25
Fire Truck
Toys-R-Us
$45
Pop-up School Bus
Walmart
$28
GigaTent School Bus